My jungle trek might have been one of the most physically challenging things I've ever done in my life: 40 kilometers of downhill mountain biking, rafting through Class 3 rapids, walking 26 kilometers up and down steep mountains… it was quite a challenge. That being said, my trek was also one of the most incredible experiences of my life.
I remember climbing into bed on my first night and looking at my watch, only to realize it had only been 14 hours since I'd left Cusco, but it somehow felt like days. I started the day with a 6:15 wake up call to take my last hot shower for four days — thank goodness there was hot water at my hostel that morning (another small thing you learn to seriously appreciate when you travel: a decent shower). I had to literally sit on my (er, Kate's) bag to close it, I was taking so little with me on the trek. Two pairs of leggings, four pairs of underwear, a bathing suit, two sports bras, a long sleeve shirt, a short sleeve shirt, two tank tops, my fleece, a pair of sweats, face wash, toothbrush/paste, body wash, a small towel, my camera & charger, chapstick, and a flashlight. Damn good packing!
I was told there were only 6 of us on the trek, so when our 16-seater van ended up completely full, I was less than thrilled. We were taking a 3 hour drive up into the Andes to start our mountain biking, and there were 9 Israelis who were going to be joining our group for the first half of the first day. Unfortunately, they were being typical Israelis, screaming and shouting and blasting techno music… at 7:30 AM. The other 6 of us looked at each other with frustrated and exhausted faces, silently thankful they were only with us for those few hours.
As an American Jew, it's often hard to hear the reaction to the myriad of Israelis traveling in groups down in South America. Stian, one of the Norweigans in my trek group, simply said "I hate those people" on our way to dinner on our first night, and though I was immediately hurt and frustrated, I completely understood why his impression of Israel and Israelis was so negative. The 9 Israelis in our van made no attempt to speak English or communicate with us — they spoke over the guides when they tried to explain things during our drive, and they didn't take us into consideration whatsoever. Of course there are exceptions to all the stereotypes, and I of all people know that not all Israelis are like this — for instance the great guy, Alon, I met on my tour of the Cusco ruins. I think when people travel in groups, it's just a different situation.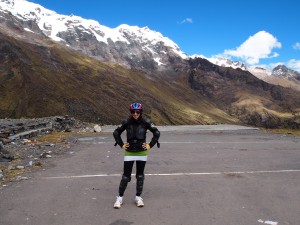 Regardless of their obnoxiousness, mountain biking was quite the experience: serene, slightly terrifying, but overall, a few of the most incredible hours of my life. After my not-so-impressive biking experience at the Estancia in Uruguay, I was more than a little nervous to hop on a mountain bike and cycle 40 km (almost 25 miles) down a massive mountain. Luckily, our guide, Juan Carlos, was great at explaining all the functions of our bikes, triple checking everything worked, and then loading us up with the right gear: helmets, gloves, full top "armor" jackets with spine protection, plus full knee/calf protectors. I looked pretty ridiculous, but I felt safe!
Once I did a few circles around the dirt lot where we were suiting up, I immediately felt more comfortable on my bike than I had in Uruguay, but the first mile or two were still a bit of a struggle. I was the last in the group, ended up breaking a lot, and took the curves very, very slowly. As I got more comfortable on my bike, I eased up a lot. There was a steep drop-off on one side of the road, but even the parts of the road with hairpin turns were wide and well paved, and I was able to ease into the ride and a higher speed relatively quickly.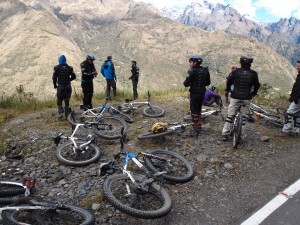 There is nothing more beautiful than descending from 4500 meters (just over 13,000 feet) above sea level, surrounded by beautiful snow-capped peaks, into a temperate jungle, watching the vegetation become more and more green, feeling the air get warmer and warmer, the sun on your face and wind in your hair. It sounds so disgustingly cliche, and nearly impossible considering I was navigating a two-wheeled vehicle down a steep mountain road, but it was such a freeing, relaxing experience. Ironically, mountain biking was the part of the trek I was most nervous for, but it was by far my favorite official activity of the four days.
After biking we had pesto chicken, rice and tomatoes for lunch at a local restaurant (unexpectedly delicious!), awkwardly changed into our swimsuits in the backyard of our restaurant, then got picked up for rafting. The sun was slowly sinking in the sky, and I realized it was already past 3:30. We ended up sitting in the van in town for nearly half an hour waiting for people from another tour group to join us, so by the the time we drove down to the river and got our lifejackets on, it was close to 4:15.
Firstly, I was expecting wetsuits, and there were none. Instead, I stayed in my leggings and tank top over my bikini, in fear of being freezing cold. Secondly, I somehow ended up at the very front of the 8-person raft. Our guide began to explain the proper procedures for catching the rope if you are thrown overboard, and how to duck into the raft when he says "Get down!" instead of the typical "forward" or "backward" paddling instructions. My heart immediately started racing.
I'd like to say the first, gigantic, bone-chilling wave of ice cold river water was the most shocking, but that would be a lie. Every time I got drenched, which was at least a dozen times in the hour and a half we were on the water, was just as cold and just as terrible. I was shivering, annoyed and mostly terrified. But halfway through, as we floated down a rapid-free section of the river with our paddles in our laps, I just couldn't help but laugh. Here I was complaining, yet if this were any other normal day, I'd be sitting in my cubicle, complaining about how cold I was — from the AC — and how frustrating the CMA was being that afternoon. Instead, I was river rafting through class 3 rapids in the middle of the Peruvian jungle. How could I possibly be miserable?
After that, I kept a firm grip on the rope at the edge of the raft and dug my feet firmly into the foot-holds, but I smiled, even when I got a mouthful of water. I wish I had a picture of myself when I got out of the raft (or any pictures from rafting — I left my camera with Juan Carlos to take to our hostel) — I literally looked like I had showered in my clothing, there wasn't a single inch of my body that wasn't soaked. We towel dried and attempted to soak up the last of the sun, then helped the guides reattach our rafts to the top of the vans before they drove us back to our hostel.
By the time we were back at our hostel it was pitch black and not very warm out, so I was happy to have warm sweats and a dry fleece to change into. Dinner at a local restaurant was delicious, and it was wonderful to crawl into a bed (not a sleeping bag) and pass out!
Sad to report I took very few pictures on the first day — the few I did take are uploaded to Picasa here.