On my first day back in Cusco after the trek, I was planning to let myself sleep in as late as possible but when you sleep at a hostel in an 8 bed dorm room someone is bound to wake you up. That, and I think my body has officially adjusted to early alarms!
When I had stayed at the Pariwana hostel before my trek I really liked the girls in my room, but my second time there I had a mix of not so friendly roommates which was kind of a bummer. Three of them were friends traveling together from New Jersey, so I was excited to have some east coast bonding time, but they weren't at all interested in talking to me or hearing my advice about Machu Picchu, so I gave up trying. The other two girls were Norwegian and nice enough, but fairly loud at odd hours, and not very interested in making friends either.
That morning, the Norwegian girls warned me that the shower was ice cold, and needless to say, I was not a happy camper. A half hour later I decided to try it out anyways and luckily there was scalding water coming through the shower head. There is no such thing as a nice, hot shower in South America. You're either burning your skin off or freezing cold, it's nearly impossible to find a happy medium.
Since I hadn't met anyone at the hostel I wanted to spend time with, I spent the majority of the day wandering the streets of Cusco, having Rachel time, and falling even more in love with the city. It was definitely an adjustment to go from having 5 constant companions and a tour guide to coordinate everything to suddenly being on my own again, and I was a little emotional that the trek was over, since it was the part of my trip I was so highly anticipating. Regardless, I had a really wonderful Sunday!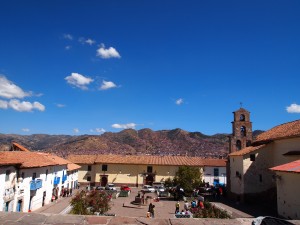 I walked over to the local San Pedro market and saw more dead, skinned animals that I'd like to remember, wandered up the hills to San Blas square and ate at Jack's Cafe, an amazing restaurant run by an Australian guy, where I had one of the best veggie burgers of my life. I went souvenir shopping and perusing, then ended up back at the Plaza de Armas to watch a huge festival/parade. I got a fresh passionfruit-pineapple juice at a local juice market on the square, then wandered into McCoy, an English-run pub that Stian and Gene had told me about on our trek. Coincidentally, I walked upstairs and there they were!
I hung out with them for a bit, then Hege pointed me in the direction of the amazing, and very cheap, massage place she'd tried out earlier in the week. For 25 soles, just over $9, I got a great back and neck massage. Unfortunately, I wasn't able to let her massage my legs because they were seriously sunburnt from sitting in the sun at Machu Picchu all morning the day before. Oops.
I went back to my hostel to do some research on places to stay in La Paz, committed to a large, but very cheap, party hostel because it seemed like the best option, then met Stian and Gene back at McCoy for dinner.
When I walked back into McCoy, I ran into one of the girls we had gone rafting with on our trek — she was from another group doing the same trail at the same time as us. It's a very small world in Cusco, since everyone is there mostly to go to/from Machu Picchu, and it was great to run into her again!
Monday, June 18 — Driving from Cusco to Puno
On Monday morning, I was up bright and early for my 10 hour tour bus ride from Cusco down to Puno. I got to the tour office at 7 AM, as suggested, to find that my name wasn't on the reservation list. Considering I had booked this bus over a month ago, I was relatively pissed, but thankfully a phone call to the tour company's main offices and then another to the GTB offices got everything sorted out.
The drive down to Puno from Cusco is between 7 and 8 hours and most people, like Dan and Millie, opt to do it overnight. I chose to do a day trip that stopped at four different ruins sites, plus a fifth stop for a buffet lunch. It was a nice way to break up the drive, and I love staring out the windows at the scenery, so I was happy to do the drive during the day instead.
I was traveling on a relatively luxurious bus with a group of 50 tourists, including 15 older Australian tourists, most of whom were grandparents. They were super cute and kept asking me lots of questions about LA and traveling by myself, much different from meeting young, dirty, hostel-staying travelers like myself!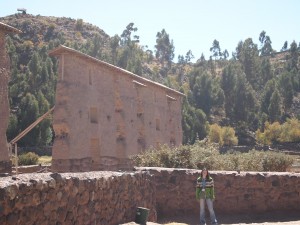 The first ruins we stopped at were Inca ruins and were really interesting — much different than anything I'd seen in Northern Peru as they were constructed with adobe, not just stone. Our second stop was a very ornate church that had been used by multiple denominations — interesting, but absolutely FREEZING inside! Our third stop was at La Raya — a gorgeous outlook where we officially left the Cusco region of Peru where you could see the beautiful snow-capped mountains. Our last stop was a pre-Inca museum that was very run down and almost entirely in Spanish, so unfortunately, it felt mostly like a waste of time.
Our buffet lunch, however, in between all of our stops was delicious, and we got to hang out with llamas and alpacas in the fields outside the restaurant after we ate, which was pretty sweet. Check out these action shots from when I tried to pose with the llama — it tried to spit on me!!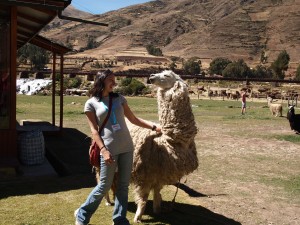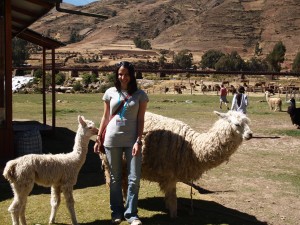 When I got to my hostel in Puno, I was very proud of myself for carrying on a conversation with the receptionist almost entirely in Spanish. Granted it was very basic Spanish, but it was much better than giving a blank stare and a typical gringa "No Habla Espanol" answer.
I wasn't quite hungry when I got in, so I wandered down to the main square and went into a tourist information office to ask a few questions. I was going to be ambitious and wake up early, before my 8:45 AM floating islands tour, and hike up to an outlook I'd read about in my guidebook. The woman at information, however, told me it was relatively unsafe to do on my own, especially around sunrise, and even though I was disappointed, I took her advice and chose not to go.
I got dinner at a cute restaurant I'd read about in my guidebook and recomended by my hostel. I had an adorable table on the second floor overlooking the plaza and ordered a traditional peruvian dish of chicken breast in mint sauce, over sweet potatoes and quinoa salad — delicious!
I headed back to the hotel with the intention of catching up on blogging and emails, but the internet connection was terrible, so I just passed out early instead. What is vacation for if not to get an excessive amount of sleep?