Who ever thought I'd be able to say the words "Yesterday, I climbed a volcano?" I feel like that sentence needs a "freakin'" in there somewhere!
Let me start by saying that thus far, I've really enjoyed my time Ecuador. I've discovered, however, that many things local people tell me tend to be relatively untrue. For instance, "Oh, the walk is easy" – 30 minutes later I'm huffing and puffing up a gigantic hill. "Oh, it's always cloudy, overcast and completely freezing there" – meanwhile, I'm sweating through my long sleeves and long pants. "Oh, we're open every day" – the gate is clearly shut and locked. Maps are inaccurate, signs lie, and "mas tarde" – a general term for "later" – rules all. I've come to refer to these inaccuracies as Ecuadorian distance and Ecuadorian time.
That being said, our school here has been less than informative about the activities we're signed up for. Oh, yeah, you're going to go to a volcano called Cotopaxi. Lunch and a guide is included. Meet at the school at 6:20 AM. Have fun! is essentially what our instructions looked like for our day yesterday.
The real instructions, which we received en route to our destination: We are hiking up that volcano, mountain biking down some mysterious road, oh, and btw, its miserably freezing and probably below zero at the top, so you may want scarves, gloves and a hat. And bring 2 liters of water with you! I'm so glad I got all of this information before I packed my backpack for the day. Not.
Regardless of the lack of communication, climbing up the volcano was breathtaking. Literally, in that the altitude was so high it was incredibly difficult to breathe, and we were climbing up very steep switchbacks for over an hour, but also figuratively — the view of the valley below and the other volcanos in the distance was absolutely incredible.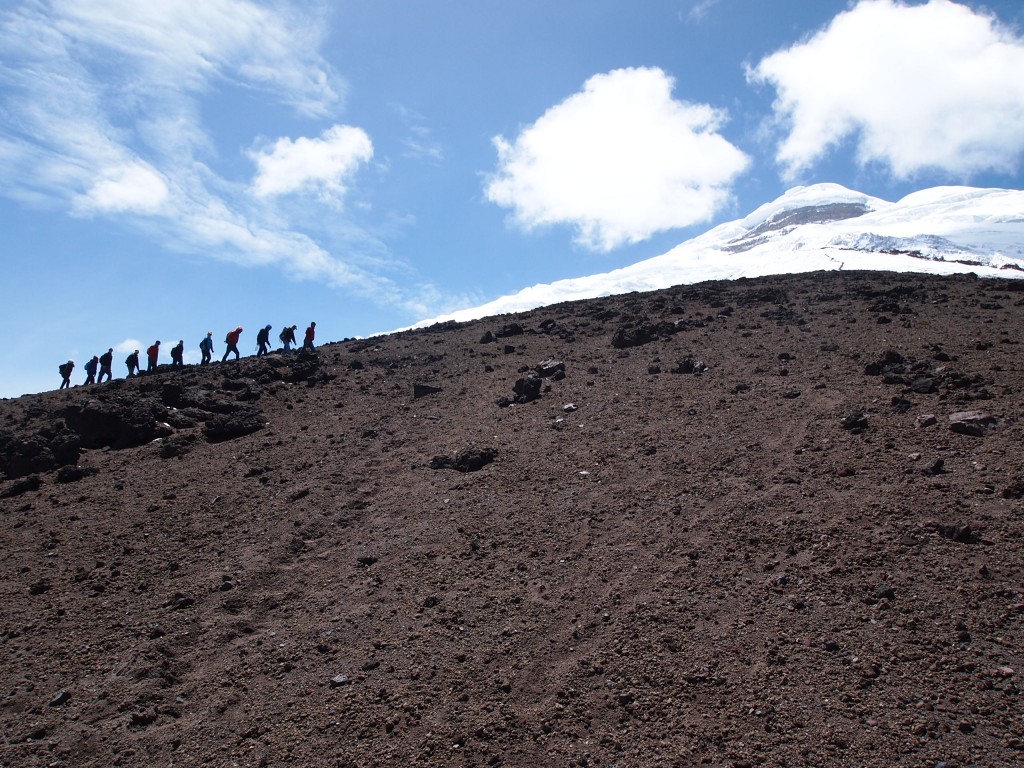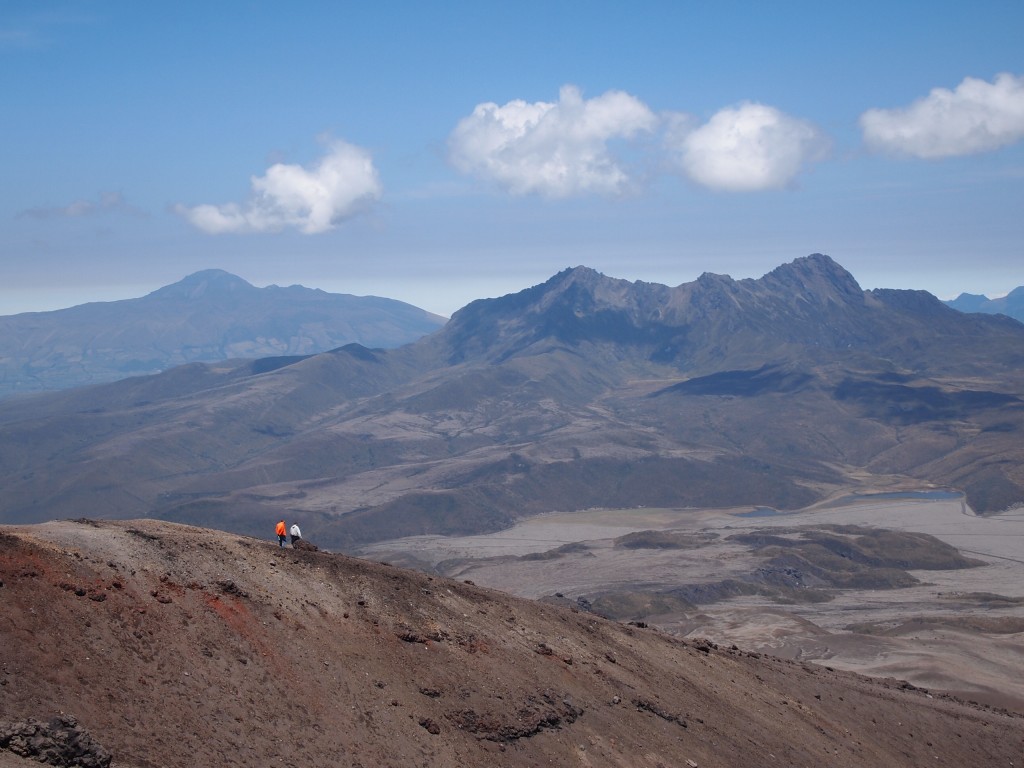 The group, which consisted of 15 people, about a third of which were associated with our Spanish school, trudged up rather quickly. I took my time, stopping often to catch my breath, take pictures and just take in the view. I was enjoying myself thoroughly… until it was time to climb down.
Now, here for all to read, I will admit I am a wuss. I am my father's daughter, and I can be both a complainer and a coward. However the path down Cotopaxi was one of the most unsafe, ridiculous challenges I have ever seen. Easily at a 75 degree incline, the path was covered in loose dirt, gravel and rocks with no stairs, no railings and no markings whatsoever. You could barely "climb" down slowly. Instead, you were forced to run-walk, your body pushed down with the force of gravity as you attempt not to tumble down the mountain. My shoes had more rocks and sand than a beach when I reached the bottom.
I ate shit several times and on my last fall, I managed to stop myself from tumbling face forward by catch myself with my right ankle… twisted underneath me. I think the shock, anger and fear caught up with me, and by the time I reached the bottom I was shaking with tears in my eyes. After I calmed down and realized the throbbing in my entire body was more fear than actual pain, I knew I was okay, but I will say now I would definitely not recommend that hike to anybody else.
Regardless, knowing I climbed to 4,810 meters (15,780 feet) on one of the world's highest active volcanos is certainly an experience I won't soon forget.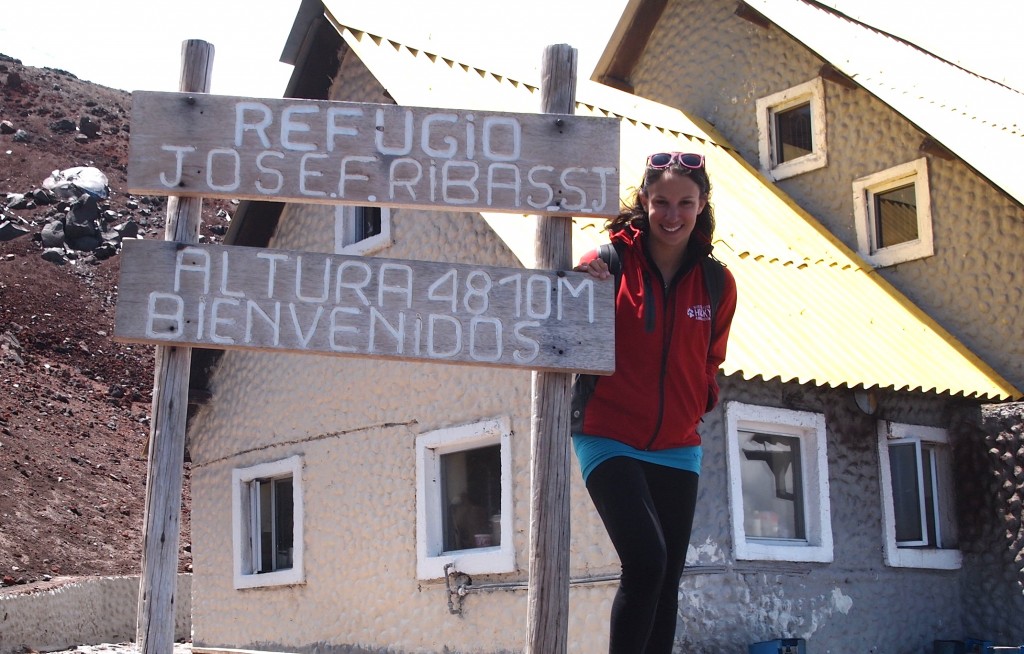 After we hiked down, the van dropped us off on the side of the road with our mountain bikes, handed us some helmets and said "see you in 10 kilometers and 45 minutes!" The road was under construction so it was dusty, rocky and altogether relatively unpleasant. Though I try not to be a debbie downer on vacation, I had a hard time enjoying the view while I was concentrating on not flipping over my handlebars, so about halfway through the descent I put my bike back on the trailer and climbed into the jeep. I'd had enough!
Of course, Stella had to make an appearance…
After a bizarre lunch of fruit, guacamole, ruffles and a terrible – and tasteless – mystery brocoli soup, we drove the 2 hours north back to Quito and said our farewell.
Random side-note – a couple we'd gone to the Isla de Plata with was also on the exact same Cotopaxi tour with us. Such a crazy small world!
And now, the rest of my pictures!