Yesterday, we took a day trip out to the Ingapirca ruins, a two hour drive north into the Cañar province of Ecuador. We drove out of the Cuenca valley and into a very different, adjacent valley, where rolling green hills host farmland and pastures where cattle graze and beans, potatoes and corn grow. We stopped first at a beautiful church on the hillside with a view of the valley, and then at a local market where indigenous families sold a bizarre combination of fresh fruits and vegetables and brand name clothing (Hollister or Aeropostale anyone?) from China. I bought fresh chocolate that my mouth was practically watering for as I purchased it, and of course I had a total gringa moment, because it was 100% cocoa and disgustingly bitter. Total fail.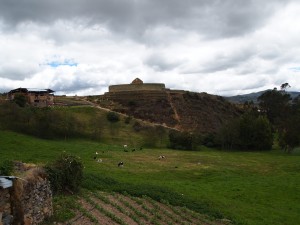 The ruins themselves are the biggest Incan ruins found in Ecuador, and are built upon ruins of the Cañari people — an older tribe conquered by the Incas. As a result, this site is the only Incan ruins site with a sun temple in the shape of an eliptical (the shape used primarily by the Cañari people, Incans primarily built square and rectangular rooms). Our guide Diego was fantastic, and explained tons of Incan theories and history for us. I loved him so much, at the end of the day I joked that I wished I could just take him with me into Peru!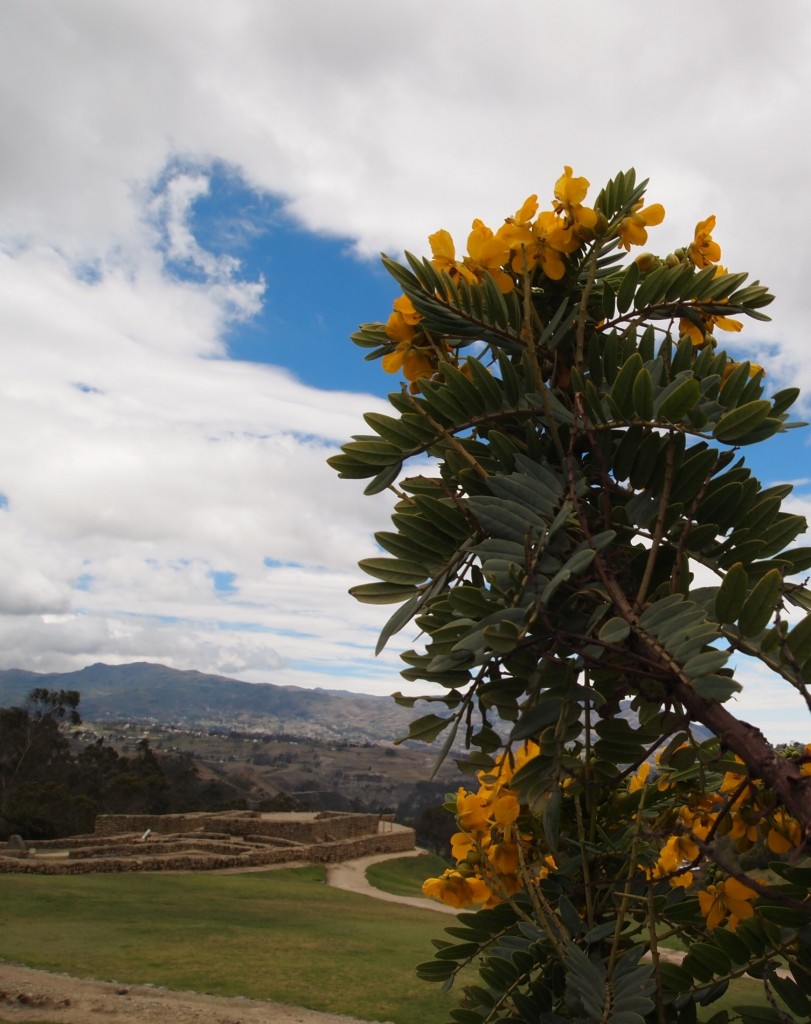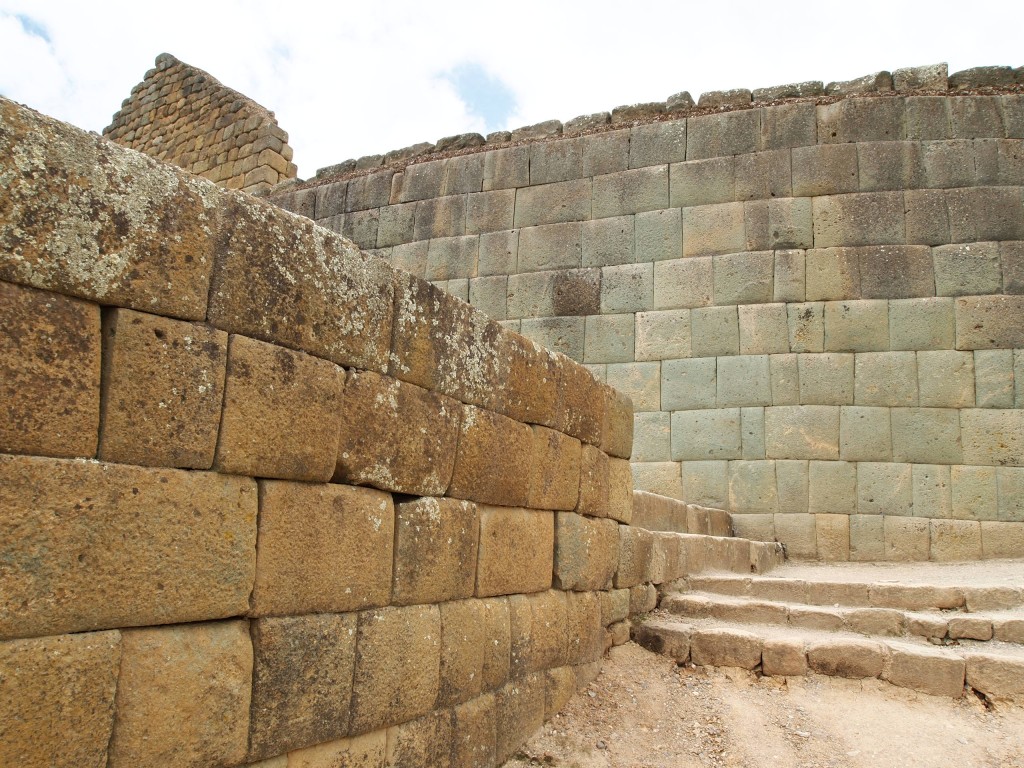 (More pictures from the ruins in the gallery at the bottom)
The Incan culture truly fascinates me. The sheer manpower used to form such perfectly shaped stones for their temples are mind blowing, and the intelligence they held about the stars and solstices (every single temple they've built is angled absolutely perfectly for the solstices/equinoxes in June, March, September and December) is unbelievable. To this day, no one has been able to recreate the construction of the Incan people, it's just that damn impressive. After seeing ruins from their civilization in so many countries, it's interesting to see the differences and striking similarities, despite the thousands of miles of distance between the various sites.
After the tour our group of students from the school met for a cuy (guinea pig) dinner for Pascal's birthday. I tasted a bit of the meat and skin (when in South America, right?) and didn't think it was anything incredibly special, but the rest of the group seemed to enjoy it!
Today, our group opted for a day tour of the El Cajas national park, just 45 minutes outside of Cuenca and absolutely, breathtakingly, beautiful. I feel like I can't quite find the right adjectives trying to explain the raw, natural beauty of the park, but the 110 sq miles of land contains over 700 bodies of water, thousands of species of bird and animal life, and more beautiful – and totally unique – flowers than I could count. Only 8% of the park is in use, the rest is inaccesible, high up on the granite hilltops or covered by golden yellow grass and "cushion forest," a term for the muy fuerte y verede grass that grows on the thin layer of soil throughout the park and holds vast amounts of rainwater beneath it. We walked 5(ish) miles (we're talking Ecuadorian distance, so really who knows) on two different paths, and visited the continental divide, where on one side of the mountain, all the water flows to the Pacific Ocean and on the other, all the water flows east instead, to the Atlantic.
We walked through mossy forests, around gorgeous lakes nestled into valleys, and through gigantic mud puddles (my shoes now have Iguazu dirt & Ecuadorian mud permanently embedded in them). We saw a herd of llama with two babies, all sorts of ducks and hummingbirds, and ate amazing fresh fried trout for lunch. I took a million photos (okay, only 263) in the 6 hours we were there, so I'll let (some of) those speak for themselves.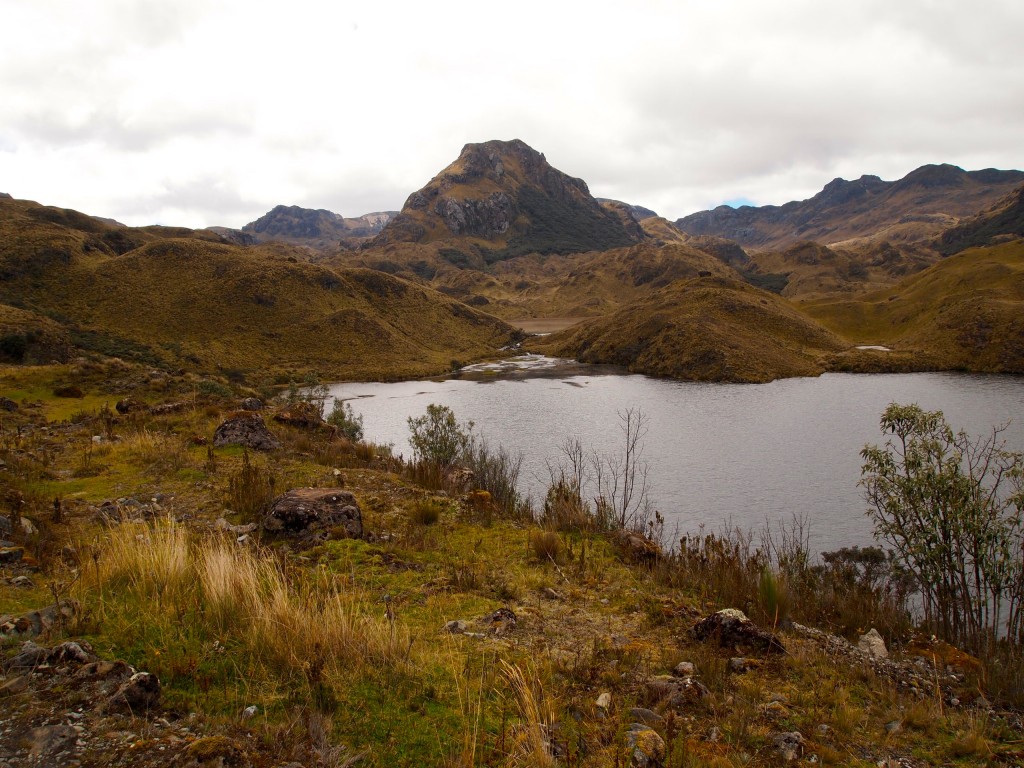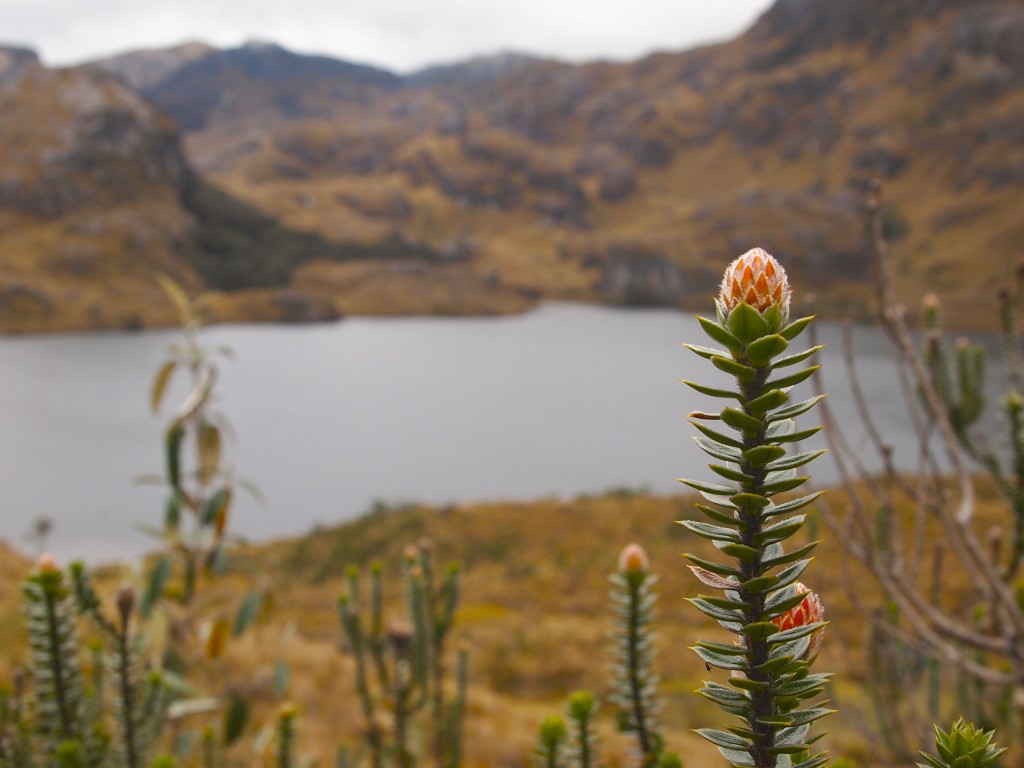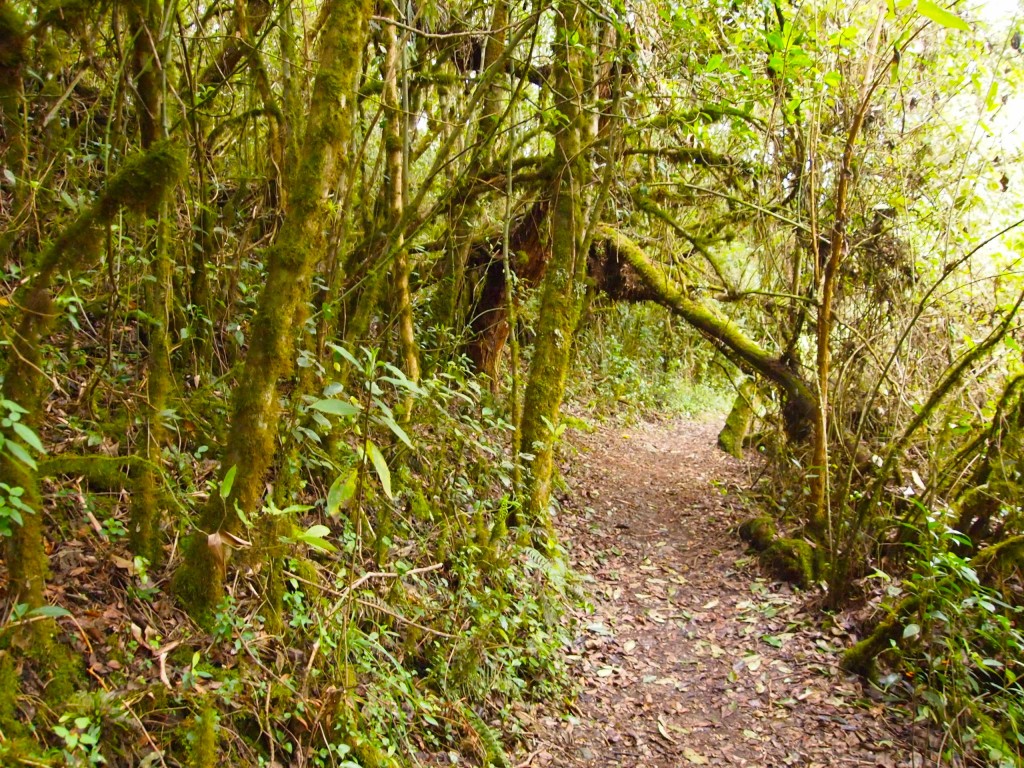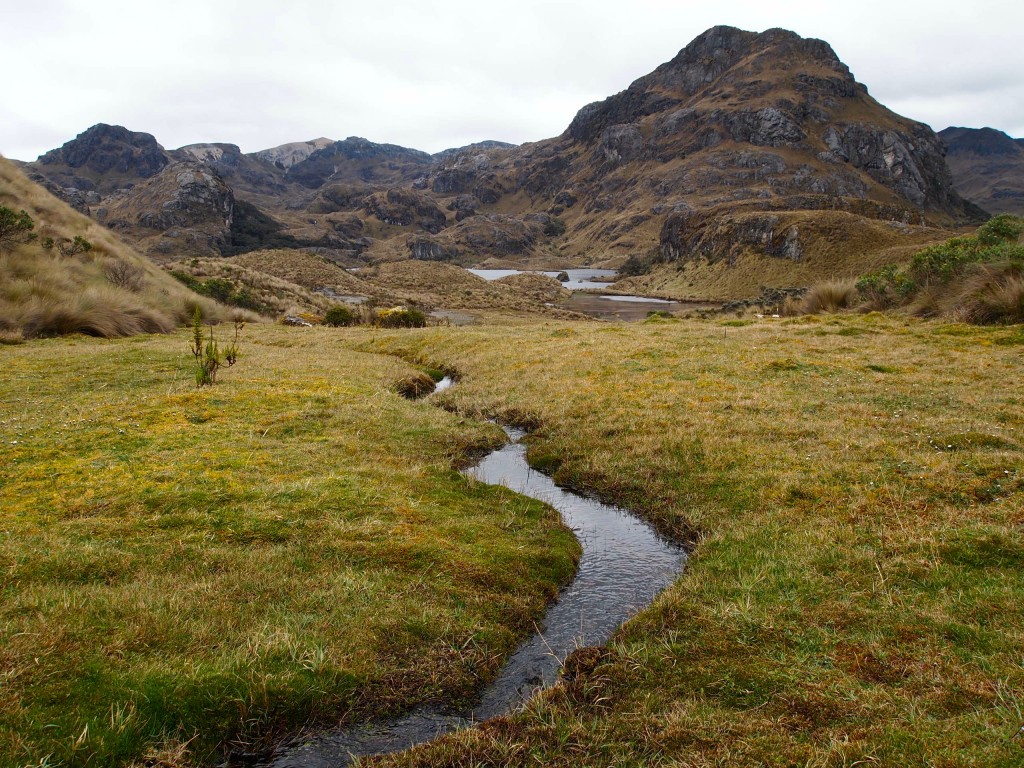 Yesterday was my last day of the traveling classroom program, and our last day together as a group — we've been together two weeks, since the start of our week in Quito. Edith had her flight down to Lima this afternoon, Katelyn leaves the country tonight, Pascal is off to the Galapagos for a week, and Irene and Rinalta are headed back to Montañita.
For many reasons, I'm glad to head my own separate way.
I've really loved the homestays I've had — all of my families have been so sweet, so welcoming and so helpful as I've slowly learned to speak and express myself in Spanish. But staying in someone else's house (and eating their food) can be tough, especially when you're immersed in a different culture and have a different lifestyle. It was a wonderful experience – and something that I will always value – but I'm ready to set my own schedule and decide my own meals.
Traveling with a group is tough at times — everyone has different complaints, different needs, and different quirks, and it can be exhausting to be constantly surrounded by other people who see things differently, travel differently, and want and expect different things.
Of course, the perks of constantly having companions are great too. We built great inside jokes and had a blast together. Kathleen and I – who have been together since day one – forged a great friendship, and I was so bummed to say goodbye to her this afternoon! Luckily, she lives in San Francisco, so I've got a 99th reason to get myself up to the bay once I get back to the US. But having someone to watch your stuff while you walk to the bathroom, lend you a $1 coin when you only have a $20 that nobody will break, or take a silly picture of you at just the right moment is wonderful too, and I'll definitely miss those perks.
I can't believe four weeks have already passed — the time has literally flown, and what's really unreal to me is that this means my travels are already a third over. So far, I've really had an amazing time, and I'm so glad I chose to take Spanish courses. I really feel like I've absorbed a ton and that I can communicate, which is much more than I thought I'd be able to say a month ago! I can't wait to keep practicing.
My favorite, and clearly very appropriate, ending picture: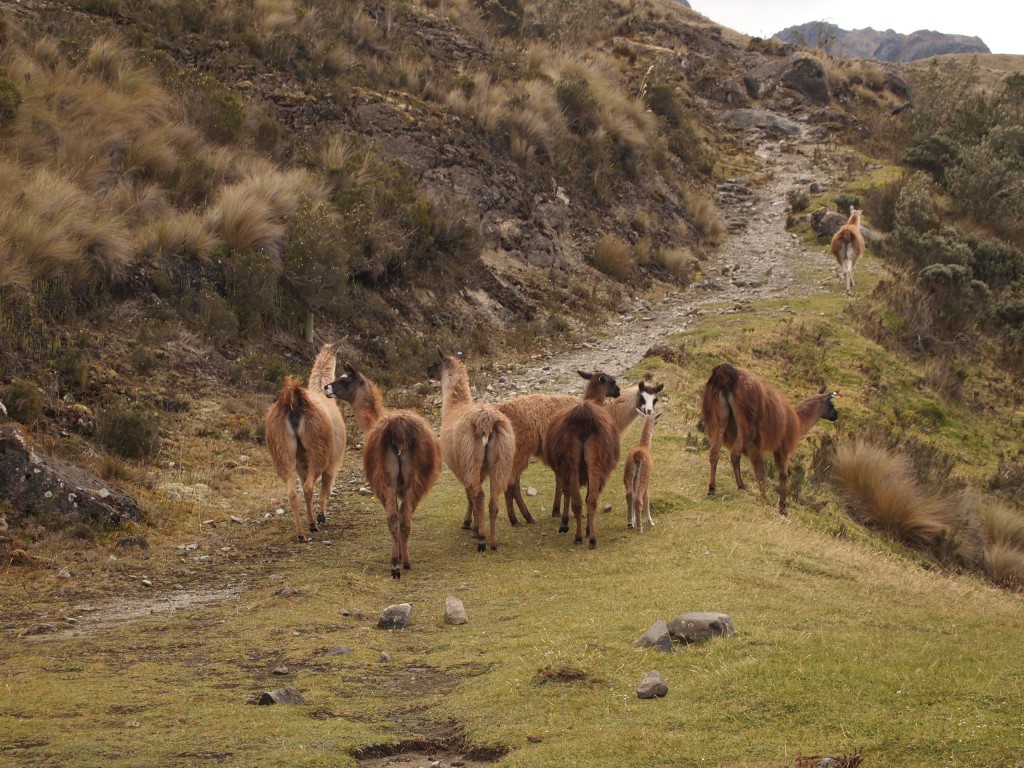 All of my favorite pictures from the last two days: