I just had a shot of Peruvian pisco with our hostel owner, and now I'm sitting on the roof terrace watching the sun sink into the ocean as dozens of surfers ride the waves toward shore. Ben, my new friend from Kentucky, is laying in a hammock and plucking at his guitar. This, right here, is what vacation is all about.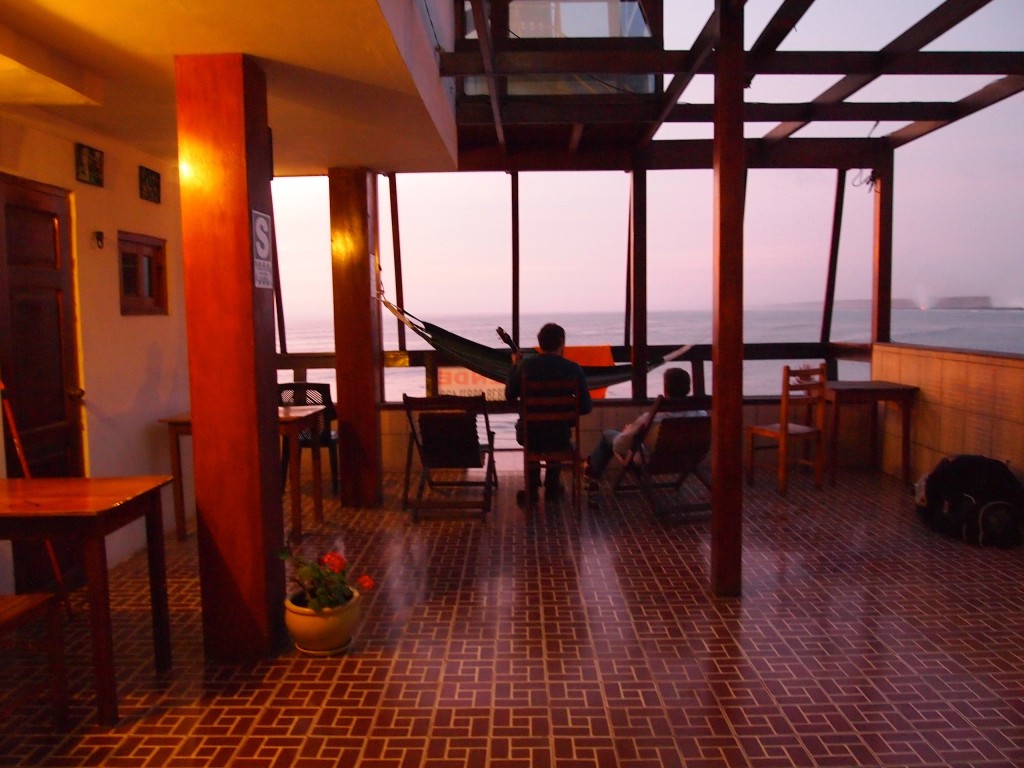 Thanks to the suggestion of Diego, my amazing Ingapirca tour guide, I convinced Aaron and Kyla (the couple from McGill that I've been traveling with) that we should stay in Huanchaco, a small beach town several kilometers outside the noisy, and busy, city of Trujillo. His suggestion was right on target — our hostel is dirt cheap, the food is great, and the town is incredibly relaxed. And for 1.50 soles (about 65 cents) we can take a bus right into the center of Trujillo.
On Saturday, we spent the day relaxing at the beach and at our hostel, which has gorgeous wooden terraces that look straight out onto the ocean. We had fresh ceviche for late lunch/early dinner, drank some beers and hung out, then went to bed early.
Today, the three of us made our way into Trujillo and to the Huaca de Luna — a Moche temple built in 500 AD but discovered only 20 years ago because it was completely buried by sand. It was different than any ruins I'd ever seen, with intricate carvings and paintings still mostly intact, and I really enjoyed it. We wandered through the city, found a good lunch place in our guidebook, saw the main plaza then hopped a bus back Huanchaco in time to see the sunset.
On Friday in Chiclayo, we opted for a full day tour of some ruins in the area, since Chiclayo itself isn't a city with much to do. Our tour group consisted of an anti-social man from Amsterdam who refused to speak more than two words to us (or anybody), a tattoo-covered couple from Australia, a Taiwanese woman living in Pasadena, a German woman from Munich who is living in Trujillio teaching English to elementary school kids, and two families with young kids.. who only spoke Spanish.
Our poor tour guide had to spend the entire day switching from English to Spanish for absolutely every explanation. His English wasn't the best, but his Spanish was relatively clear. I joked that I understood about 50% of his English and 50% of his Spanish, so altogether it's possible I got the whole tour. Regardless, he was a nice man with some funny idiosyncrasies — every time we walked up to a skeleton, he would say "Now let me introduce you to my friend…" — a set of bones from nearly 1,500 years ago. I also learned that Chifa restaurants everywhere in the northern coastal cities aren't just an attempt at imitating Chino food. Instead, when the rice fields of northern Peru were first established, thousands of Chinese indentured servants "migrated" to this area. I would have never known!
First, we saw the tombs of Sipan, discovered in 1987, ironically, by grave robbers who stole dozens of pieces of gold from the underground structure. In 1988, with the help of the arrested robbers, archeologists were able to uncover a total of 9 different tombs, each one more and more elaborate. The Lords and nobles of Sipan were buried with kilos and kilos of incredibly ornate and delicate gold and turquoise jewelry, breast plates and headdresses, not to mention llamas, concubines, and guards with their feet cut off, meant to protect the tomb forever. All of these jewels — plus many sets of disintegrating bones — were displayed in two different museums. It was sort of strange to take a step back and realize we had dismantled a burial site that these people had put such intense effort into creating. This man, despite only being a set of barely distinguishable, disintegrating bones, was once a father, grandfather, and uncle. Though uncovering the history and traditions of these people is an honorable reason to dismantle these tombs, it's a bit bizarre to think about the reverse situation — what if someone had done this to my great grandfather, or even to my grave in 2000 years? Sort of creepy!
We also saw the Tucume pyramids — a group of flat-topped pyramids that were once tall standing, presumably beautiful, structures. Now, because of rain and wind destruction, they simply look like gigantic sand piles. Unfortunately, that was the part of the tour that was very rushed in an attempt to make it back to Trujillo in time, so we got very little information about the structures themselves.
Tomorrow will be another relaxing, beach-filled day and then Aaron, Kyla and I are off to Lima on an overnight bus. I like traveling at night because it saves me a bit of money (no hostel necessary!) but I also don't feel like I'm wasting an entire day sitting on a bus. Traveling alone at night, however, isn't my favorite, so I'm glad to have other gringos to keep me company!