On my second day in Chile, Alison and I took a bus out to the coastal town of Valparaiso, an hour and a half north-west of Santiago. Valpo, as the city is often called, is situated on dozens of steep hills right off the coast, all of which are densely populated and covered in brightly painted houses and apartments. Prior to the existence of the Panama Canal, all major ships had to pass through Valparaiso, so the city was very wealthy and well-developed in the 19th century. Over the last decade, it has become more run down, but the vibrant colors of the houses and street graffiti are an incredible sight nonetheless.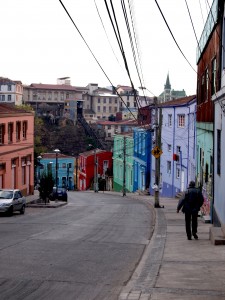 We spent the day wandering the hills (me taking way too many photos and Alison waiting patiently) and finding the best lookouts, then stopped at an adorable cafe for coffee and a quick sugar hit before heading back down the hills toward the bus station. Everywhere you look in Santiago and Valpo there are dozens of wild dogs. They're all relatively tame, and for the most part just like to lounge in the sun, mostly in the way of everything and everyone.
Once we got back into Santiago, we took the Metro back to Alison's to make dinner — grilled chicken with a side of roasted onions, peppers & potatoes. Then came the task of packing: somehow fitting 18 days of clothing (plus shoes and toiletries) into our relatively small backpacking backpacks. Several hours, and many tough decisions of what to leave and bring, later, we passed out from exhaustion.
On Wednesday, we spent the morning walking over to downtown Santiago, where Alison gave me the grand tour of all the important and historical buildings of the city, including the Gabriela Mistral Center, a beautiful new center of the arts the city has developed in the last year. We met Ignacio for lunch at the Cultural Center and then headed to the Claro (a cellphone provider) store, where I got a lesson in Chilean patience. Alison and I were put on a bit of a wild goose chase, since she wanted to unlock her phone so it could be used with an Argentinian SIM card/chip, but every Claro store we entered told us we had to go to a different location, even though the one before had told us we needed to be at the other location instead. Finally, we reached the right place and then had to stand in line for 45 minutes. However, unlike in America, the dozens of people ahead and behind us in line were not impatient whatsoever. Nobody huffed or puffed or even complained, they just stood there in silence, waiting patiently. A very bizarre scene.
Once Alison's phone was successfully unlocked we did some more wandering up onto Santa Lucia Hill, a small hill in the middle of the city that is home to a gorgeous yellow and white structure that looks almost like a mansion, and Fort Hidalgo, a fort overlooking the entire city of Santiago. I fell in love with the views and the architecture, and couldn't take enough pictures. Then we went back to Alison's apartment, where we had an hour to finish packing and organizing before heading to the airport. Once we got in our taxi we zipped straight to SCL, checked in and then had a very gourmet dinner at Ruby Tuesdays, considered a high-class steak joint down in Chile, and an expensive one at that. We had a very easy flight over to BA, and once we paid our $160 entry fee into the country (steep, I know!) we found our arranged taxi driver, who was very chatty and gave us a great tour of the city as he drove the 33 kilometeres to our bed and breakfast. After the owner showed us our room, we both crawled into bed and knocked out!